WHO WE ARE AND HOW WE GOT HERE
Lee J. Chinalai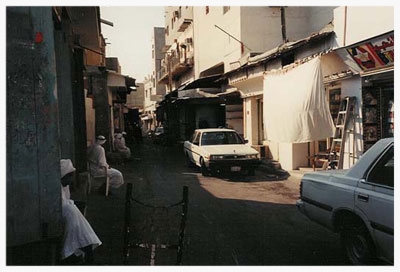 HOW WE GOT HERE
In 1975 we were living in Bangkok, Thailand, where Vichai had grown up and was then practicing architecture. I had stopped working several months before when we had our first child. A chance conversation at a party persuaded Vichai to stop in Bahrain, an island shaikhdom in the Arabian Gulf, on his way to the U.S. where we would visit my parents. Bahrain was booming and they needed architects. I went ahead to New York with the baby.
The first night Vichai arrived in Bahrain, he sketched a design for an apartment building. Not only was the drawing immediately accepted, the client asked for another plan for a much bigger apartment building for his cousin. In those days, which don't seem that long ago, we had telegrams. Vichai was only in New York for one day when a telegram arrived from Bahrain. It read: RETURN BAHRAIN IMMEDIATELY STOP CLIENT APPROVES BUILDING STOP HE WANTS TWO STOP.
Vichai kept his cool. He telegrammed back the next day that he would complete the design when he returned to Bangkok. Over the next couple of years he commuted between Bangkok and Bahrain, designing more apartment buildings, a private mansion, a shaikh's palace and a shopping center. As some of the buildings went into the construction phase Vichai was spending more time in Bahrain than Bangkok. By some miracle I became pregnant with our second child.
"This is stupid," I told him. "I'm not staying in Bangkok while you practically live in Bahrain. I'm going with you. I'll come back to Thailand in time to have the baby." Five years later we all, by then five of us, were still in Bahrain.
Some time during my first year there, in order to give the bored Thai wife of one of Vichai's Thai engineers something to do, we set up a second business: Up a Tree Plant Shop, the first in Bahrain to sell indoor plants. The place grew rapidly into a sprawling meeting spot with plants, gifts, handicrafts and art, and eventually also a restaurant which we named Up a Tree Cuppa Tea. We had books to read, chess and checkers, Scrabble in English and Arabic, dominoes and "The Dominos Gang", Bahraini regulars; and of course food to eat and things to buy.
Every Friday Vichai and I went antique hunting. We decorated the restaurant with antiques and discovered people wanted to buy them, so we sold and bought more. And more. A customer in the middle of dinner might be asked to stand up while the carpet or pillow they were leaning on left with a new owner. We decorated our flat with antiques too and didn't sell those and bought more. And more.
After six years, with the kids growing fast, we decided to leave. Eleven years before we had left the US to move to Thailand, just the two of us with few possessions. Now we were returning with the contents of a large flat in Bahrain (including a collection of antique carpets and objects), more contents from our house in Thailand (including a collection of Hill Tribe artifacts), inventory to open a shop in the States… and three kids! We moved in with my parents, took up half their basement, half the garage and a whole storage room at my father's office, plus two bedrooms and a den (thank you Mom and Dad). We had thought we would move some distance from my childhood home but we were immobilized and bought a wreck of a house five minutes away and fixed it up.
We purchased a second dilapidated old house in a commercial area, renovated it too and opened a store. Vichai joined an old friend from his New York architecture days in a huge job — in Nigeria. He started commuting between New York and Lagos every other month for a month at a time. This time I didn't say, "This is stupid," and I didn't follow him to Nigeria. While the kids were in school I went to the shop. By chance an old friend from high school found me there one day and recommended we do antiques shows.
And that's how we became…
WHO WE ARE
There were great projects in Nigeria but they all ended in 1983 with a coup d'etat and so too ended architecture for Vichai. By that time we had closed the shop, sold the house it was in and were doing shows exclusively, with antiques replenished through trips to Asia.
We became especially intrigued by functional and spiritual artifacts from Kampuchea, Laos, Myanmar, Thailand, Vietnam and China. Not long after we bought our first textile and that opened an entire new world and love. We also began to carry a selection of antique furniture and architectural and interior elements, and occasionally to venture into other parts of the globe.
One of our greatest satisfactions has been an attempt to document some of the rare and wonderful pieces that pass through our hands, often with very little information about them available. (Where possible we have included articles we have written — please find them under the publications heading.)
Another pleasure has been to help build new collections and complement existing ones. Our clients include museums, corporations, designers and private collectors from all over the world. We have a bond with what we sell and with our customers which has continued to grow over the years. We feel lucky.
With the advent of 2017, it's been thirty-six years! We hope the images and information on this website adequately represent the range and quality of our material, our vision and our passion.